Are the cramped spaces of a room too small for you? Do you prefer accommodation with a separate entrance for more privacy? Forget hotels, the ideal accommodation for your vacation in Greece is an apartment or a holiday house.
Finding interesting offers is not difficult, especially if you book well in advance: villas and vacation homes are very common in Greece and represent an excellent solution for a stay of comfort and freedom. The most popular ones are located in front of the sea or directly on the beach and are equipped with swimming pool; the studios, furnished in typical Greek style, combine price, charm and practicality.
To help you find the right accommodation for your dream vacation, we have selected the 10 best apartments and vacation homes in Greece. They are located in the most beautiful locations of the Greek islands and mainland Greece and have been chosen from the top rated hotel booking sites. They stand out for great reviews and high scores in all key factors of choice: location, value for money and charm.
They all offer modern services and amenities, including reception, air conditioning, wi fi. Almost all of them offer breakfast service (sometimes included in the rate, sometimes on request for a fee); the apartments within a hotel, the so-called aparthotels, sometimes also offer convenient all-inclusive rates with meals and drinks.
Be careful, however: the places where these fabulous accommodations are located are so beautiful that there is a serious risk of falling madly in love with them. And who knows, maybe next year instead of browsing through the rental offers for the summer you will find yourself reading the ads for houses for sale in Greece!
1
Athens -

Sarri 23, Psyrri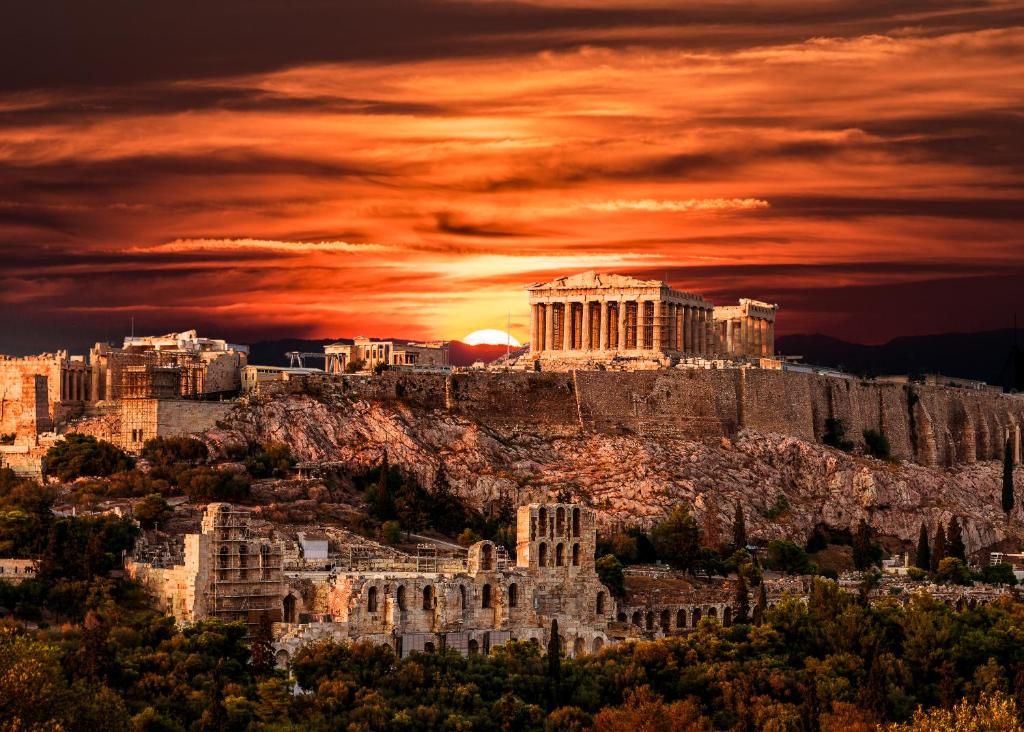 Recently opened, of very modern conception, the A.P. Acropolis View Apartments is the best accommodation of Athens for those who want both the freedom and privacy guaranteed by an apartment and the comfort and services of a hotel.
Thanks to the aparthotel formula, you can stay in spacious apartments with one or two rooms that can accommodate up to six adult guests, quiet and discreet, and at the same time enjoy beautiful common areas such as the swimming pool and the magnificent rooftop terrace. Breakfast is served in your room or on the terrace.
There are many types of apartments and suites to choose from, including those with private balconies, multi-level apartments and suites with private pools.
The strong point of this structure is the spectacular view of the Acropolis, the top attraction of the city, reachable on foot in just 15 minutes. Very convenient is also the metro station of Monastiraki, from which you can easily move in every point of the city.
Parking
Bar
Gym
Airport shuttle
Laundry service
SPA and wellness center
Luggage storage
WiFi
Air conditioning
Pool
Extra sanitary measures
A facility that will allow you to get your fill of sun and relaxation is the Bungalow White Apartments & Suites in Pefkohori, a lovely village in the Chalkidiki Peninsula.
Located on a green hill facing the sea, just 300 meters from the beach and 1 km from the center of the village, this well-kept complex consists of 18 independent apartments with kitchenette or separate kitchen with 1 or 2 bedrooms that can accommodate from 2 to 5 guests.
Large windows provide plenty of natural light and stunning views of the sea and the nearby island of Kelifos; from some rooms you can even see Mount Athos. If you are willing to give up some light for less money, you can opt for the economy apartments in the basement.
Inside the complex there is an elegant swimming pool, a beautiful lawn perfect for practicing yoga,
tennis courts, an à la carte restaurant serving Mediterranean cuisine and a free private parking. Breakfast service is available upon request.
Parking
Restaurant
Bar
Laundry service
Luggage storage
WiFi
Air conditioning
Pool
Extra sanitary measures
3
Thessaloniki -

Rempelou 1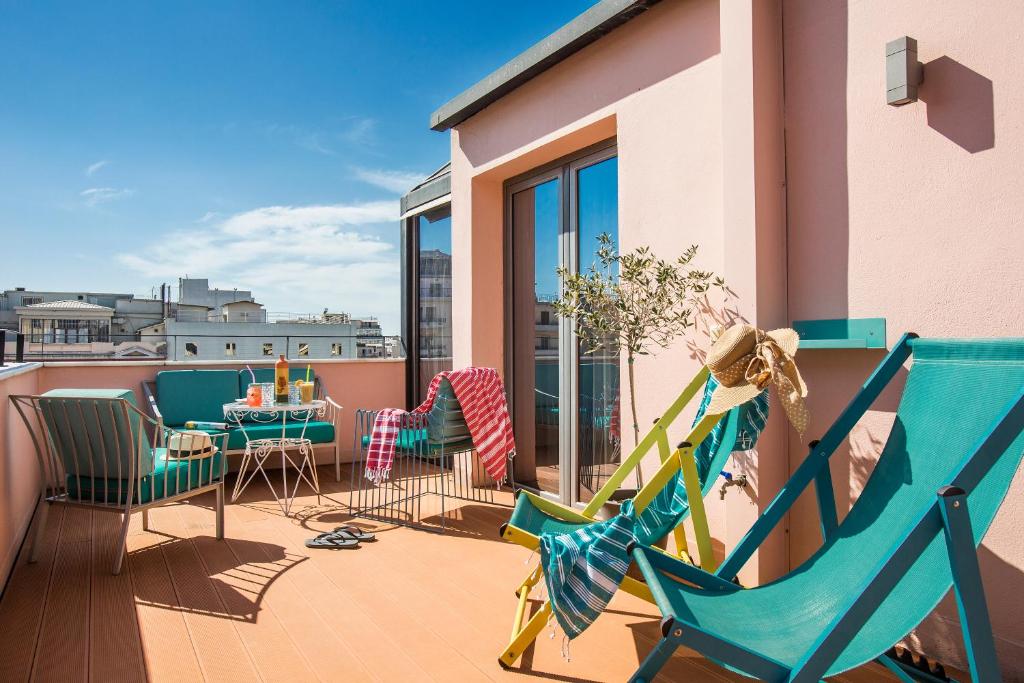 The Caravan is the ideal solution for those who want to experience the dynamic city of Thessaloniki feeling at home.
Housed in a tastefully renovated early 20th-century neoclassical building, it consists of one- to five-person apartments with attention to detail. The decor is enlivened by bright touches of color and original but classy combinations.
The location is very convenient: Caravan apartments are located in a quiet area in the heart of Thessaloniki, just 300 meters from the central Atistotelous Square.
You can choose between overnight only or b&b rates (with breakfast included).
Bar
Airport shuttle
Luggage storage
WiFi
Air conditioning
Extra sanitary measures
4
Paleokastritsa -

Paleokastritsa
An excellent solution for those looking for an affordable accommodation without sacrificing impeccable cleanliness and comfort are the Anemona Studios in Paleokastritsa one of the most beautiful areas of Corfu.
These are studios with kitchenette for two people, particularly suitable for a couple's vacation. They are immersed in the green of a quiet area from which in just 10 minutes walk you can reach some of the most beautiful bays and beaches of the island.
The furniture is basic, do not expect luxuries or frills, but the price/quality ratio is exceptional. Some studios have a mountain view, while others overlook the garden.
On the ground floor of the building there is a supermarket, convenient for last minute purchases without having to return to the city. The bus stop is just 20 meters from the entrance of the complex while for those arriving by car there is free parking available.
Guests of Anemona Studios can enjoy free use of the swimming pool of a nearby resort of the same owners.
Parking
WiFi
Air conditioning
Extra sanitary measures
5
Lefkada Town -

Karavela
Another recommended accommodation with a good quality/price ratio is the Lefkadio Suites on the island of Lefkada. This is a beautiful building characterized by its delicately colored walls and white balconies that includes different types of solutions suitable for groups of 2 to 4 people.
All apartments are equipped with a kitchenette; the larger ones also have a seating area. If you're looking for special accommodation for a romantic vacation, book the suite with an indoor hot tub. There is a swimming pool and sun terrace available for all guests.
Less than a kilometer away is the bus station, convenient for those who want to explore the island by public transportation. If you prefer the freedom of a rental car, you can count on free private parking. Some of Lefkada's most beautiful beaches are just a short distance away.
Rates include a hearty breakfast served in your room.
Parking
Airport shuttle
Laundry service
Luggage storage
WiFi
Air conditioning
Pool
Extra sanitary measures
6
Agia Pelagia -

Agia Pelagia
IRIDA Hotel Apartments is a top choice for those who dream of an unforgettable vacation in Crete because it combines the warm welcome of a family-run hotel with the high quality standards of a luxury residence.
Situated on a hilltop overlooking the enchanting bay of Agia Pelagia, in the central part of the island, it is a great base for fantastic day trips to discover Crete and a piece of paradise for those who prefer a lazy vacation.
This well-kept complex has 43 apartments of different sizes, from studios to deluxe apartments on two levels that can accommodate 4 adults, perfect for any type of vacation.
There are two outdoor swimming pools, one of which is reserved for adults. The beach of Agia Pelagia is only 300 meters away and a little further on you will find other magnificent beaches.
Some accommodations overlook the garden or the pool; the most luxurious suites have a magnificent sea view.
Restaurant
Bar
Rooms for disabled
Luggage storage
WiFi
Air conditioning
Pool
Extra sanitary measures
When typical Cycladic architecture marries contemporary design the result is a dream accommodation. There are many examples of this type at Santorini and among them the Anemomilos residence stands out for its excellent reviews.
It is located in Oia, the most chic resort of Santorini, in an enviable location that allows you to be in the center in a moment but at the same time to enjoy a spectacular sunset away from the chaos. The views of the caldera that you can admire from the pool or the bar of the residence are breathtaking.
It is also perfect for those who want to explore the island because it is one of the few facilities in Oia that is conveniently accessible by both car and public transportation.
The complex has some rooms with hotel formula and other accommodations that provide more privacy: the studios can accommodate up to 3 people, while the villas up to 4. For a special occasion, treat yourself to the suites with private Jacuzzi and sea view.
There is a restaurant serving traditional Greek dishes.
Parking
Restaurant
Bar
Airport shuttle
WiFi
Air conditioning
Pool
Extra sanitary measures
8
Platis Yialos Mykonos -

Platys Gialos
White cottages, wood and classy details: the Artemoula Studios are perfect for living a magnificent beach vacation on the island of Anemomilos in style Mykonos. Just a few kilometers from the capital and close to a bus stop, they're a great base for both those who want to experience the island's wild nightlife and those who prefer to admire the beauty of the landscapes.
The apartments, with one or two bedrooms (for up to 4 guests), all have a kitchenette and some also have a living area; the largest are arranged on two levels.
The nearest beach is Platis Yalos, just 300 meters away, but you can walk to other beautiful beaches including the famous Paradise Beach considered the top of the nightlife on Mykonos. If you do not want to move you can cool off in the two outdoor pools of the complex: the view is beautiful, take advantage of it.
Parking
Gym
Airport shuttle
Laundry service
WiFi
Air conditioning
Pool
Extra sanitary measures
9
Petalidhion -

Eparchiaki Odos Rizomilou-Koronis 29
If you don't like hotels and apartments facing the sea, but prefer to be sheltered in the coolness and quiet, your corner of paradise in Greece is Anastasios Olive Garden Apartments in Petalidi, a pretty village on the coast of the Peloponnese.
Surrounded by green meadows and olive trees, this is the perfect accommodation for anyone who wants a relaxing vacation, away from the hustle and bustle of the cities, and particularly suitable for families. Children will be able to enjoy themselves safely in the gardenplay area.
It consists of a single building with several studios and mini-apartments with 2 bedrooms and kitchen. In the courtyard in front of the building is served (on request) a breakfast prepared with local products.
The beach is within walking distance and once back home you can see a patch of blue sea among the olive trees.
Parking
Pets allowed
Laundry service
Rooms for disabled
Luggage storage
WiFi
Air conditioning
Extra sanitary measures
10
Skiathos Town -

Λιμανι σκιαθου
If, instead of immersing yourself in a garden, you want the blue sea to be the omnipresent background of your vacation, the dream apartment for you is located at the Skiathos Luxury Living residence, a high class facility on the most famous island of the Sporades overlooking an enchanting gulf.
Very close to the harbor, this apartment complex is also ideal for those who want to visit several islands in one vacation and stay in Skiathos for only a few days. The nearest beach is only 500 meters away.
Accommodation types include deluxe suites and one-bedroom loft-style suites, both for two people, or two-bedroom apartments that can accommodate 2 to 4 people. All accommodations have kitchens and have sea views; some have a living area.
Guests can enjoy a stylish pool with lounge chairs and umbrellas. Breakfast is included in the rate.
Parking
Pets allowed
Laundry service
Luggage storage
WiFi
Air conditioning
Pool
Extra sanitary measures