Are you one of those people who don't want to think about anything when traveling? Book a fabulous resort in Greece and you've done everything you need to experience the vacation of your dreams. To make things even easier for you, we have selected the best res orts in mainland Greece and the most beautiful islands, with proposals in very famous areas and others suitable for those who prefer quieter areas.
Book them without delay: they are beautiful villages facing the sea, some directly on the beach, chosen from among the most voted on hotel booking sites and with the best scores for location and value for money.
All resorts in Greece recommended on this page offer useful services such as 24-hour reception, wifi, payment by credit card, air conditioning, multilingual staff, luggage storage and parking inside or in the immediate vicinity, and are all equipped with swimming pool, spa and wellness center inside.
Almost all of them also offer the all-inclusive formula: consider it if you don't plan to move from the resort for aperitifs and dinners because it will allow you to save a lot of money without giving up anything during your vacation.
The more refined resorts require smart casual clothing to be worn in the common areas in the evening. Generally, elegant dress is not necessary, but flip flops and short shorts should be avoided: check before departure to know what to put in your suitcase!
Prices vary depending on the category of the resort and the type of room. Don't despair if your budget is tight: by booking in advance or traveling in low season you can find affordable offers thanks to which even 4 or 5 star villages become accessible.
For an unforgettable Crete 100% stress-free an excellent choice is the Stella Palace Resort & Spa, a beachfront resort located on a private area of Analipsi beach. It is located just 4 km from Hersonissos, a lively seaside resort famous for its nightlife.
It is a resort suitable for different types of vacation: recommended for young people for its proximity to the clubs of Hersonissos, for families for the amount of specific services (including aquapark, play area and recreational activities), for couples for the comfortable environment in lovely neutral colors reminiscent of the elements of nature.
The quality and service are 5-star but the price is affordable, especially if you choose the convenient all-inclusive formula.
The village is much appreciated for the variety of the gastronomic offer: there are 4 restaurants, one of which is a buffet with international cuisine and 3 à la carte serving quality Greek, Italian and Asian cuisine. The cocktails at the bar are also very popular with guests.
For relaxation and fun you can count on the private beach, indoor and outdoor pools, sports fields and a full day and evening entertainment program.
There are more than 10 types of accommodation to choose from (from 2 to 5 guests): some have a sea view, others overlook the pool or the garden. If you want the ultimate in privacy and tranquility choose villas and suites with private pools; if you are on a romantic getaway treat yourself to a suite with a Jacuzzi.
Parking
Restaurant
Pets allowed
Bar
Reception 24 hours a day
Gym
Laundry service
SPA and wellness center
Luggage storage
WiFi
Air conditioning
Pool
It's called Miraggio but it's a wonderful reality: we are talking about the most beautiful vacation village of the Chalkidiki Peninsula. Overlooking the enchanting mixed beach of white sand and pebbles in Paliourion, the 5-star Miraggio Thermal Spa & Resort is one of the best choices to combine sea and wellness during a vacation in mainland Greece.
The spa is superlative, as evidenced by rave reviews from guests, and the views of the bay are breathtaking. As a backdrop for your breakfasts, dinners or relaxing afternoons, you'll always have the blue expanse of the sea while the contour of your walks from one point to another of the resort will be the green of the manicured lawns.
There are several outdoor swimming pools, all heated; among them, an original pool with palm trees in the middle and one for children. You can have a private pool by staying in the Deluxe suites and some of the premium junior suites.
There are also four restaurants, with buffet or a la carte options, offering Greek, Italian, and international cuisine. Meals are free or charged depending on the rate you choose: if you plan to eat all your meals inside the resort choose the all inclusive formula, it will allow you to save money. If, on the other hand, you want to vary a bit in the area you will find a wide choice of beach clubs.
The accommodations of the resort can accommodate from 1 to 5 people (4 adults and 1 child or 3 adults and 2 children); the views you can choose from are pool, garden, sea. All rooms and suites have a balcony or terrace.
Parking
Restaurant
Bar
Reception 24 hours a day
Gym
Airport shuttle
Laundry service
Rooms for disabled
SPA and wellness center
Luggage storage
WiFi
Air conditioning
Pool
Extra sanitary measures
3
Faliraki -

Leoforos Kallitheas
Which to choose among the many resorts in Rhodes? Esperos Palace Resort! This 4-star beachfront resort consists of a hotel-style main building with guest rooms and a cute castle-shaped building that houses one of the two restaurants and a large park where the pools and tennis courts are located. The portion of beach in front of the resort is private, for the exclusive use of guests.
The strategic location allows you to comfortably explore the entire island. The resort is located in the immediate vicinity of Faliraki one of Rhodes' liveliest resorts, and just 12 km from the island's charming capital.
Esperos Palace Resort is also perfect for an off-season vacation in case you need to regenerate in the colder months. You can admire the sea view from the most beautiful rooms of the resort and take a bath in the indoor heated pool.
An original feature of this resort is the river pool: you can lie down on a floating donut and let the current gently carry you.
The rooms (doubles, twins and triples) are modernly furnished and have a balcony with a divider so you can enjoy the view in privacy. There are two restaurants, one buffet and one à la carte; both offer international recipes and are equipped with an open kitchen.
There is a water park just a 5-minute walk away, a pleasant alternative to the hotel pools for a day of family fun.
Parking
Restaurant
Bar
Reception 24 hours a day
Gym
Laundry service
Rooms for disabled
SPA and wellness center
Luggage storage
WiFi
Air conditioning
Pool
Extra sanitary measures
Who said resorts cost so much? The Sirene Blue Resort in Poros (Saronic Islands) is a fantastic 3 star accommodation suitable for those who want a dream vacation at affordable prices in a beautiful island not far from Athens. You can stay in the resort for the whole vacation or combine a few days at the beach with a visit to the capital or even take a tour of the Peloponnese.
Immersed in the green of a hill covered with dense vegetation, the Sirene Blue Resort overlooks the bay of Monastiri bathed by clear waters that take on endless shades of green and blue. A true paradise for those who want to relax by the sea with a beautiful natural setting and for those who want to explore the seabed with exciting diving.
You can continue to admire the beauty of the bay from the restaurant and the bar facing the sea, while breakfast is served in the main restaurant overlooking the pool and private beach.
Accommodations include classic or deluxe double and triple rooms; they are simply furnished, but they are bright and comfortable and almost all have balconies with sea views.
Parking
Restaurant
Bar
Reception 24 hours a day
Laundry service
SPA and wellness center
Luggage storage
Air conditioning
Pool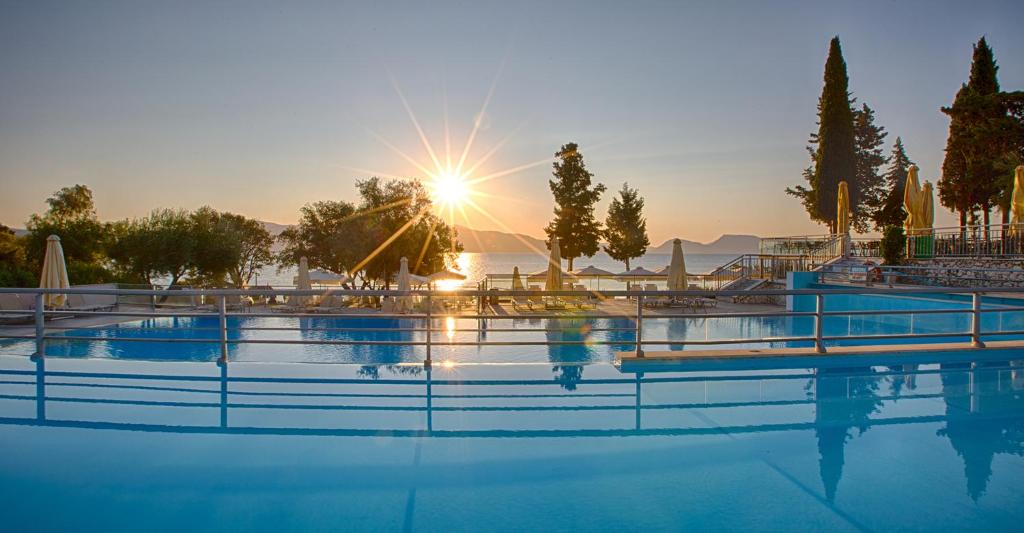 If you like the idea of a seaside village overlooking a beautiful bay but prefer something more sophisticated, move to the island of Lefkada and stay at Porto Galini Seaside Resort & Spa, a well-maintained 5-star property. It is located in Nikiana, a former fishing village that today is a charming tourist resort; it is about ten kilometers from Lefkada Town and is an excellent base for exploring the island.
The complex includes 2 indoor and 2 outdoor pools, sports fields, children's play area and a sunrise-oriented yoga room.
All accommodations, with the exception of the standard double rooms, have large windows with sea views; some are furnished in warm beige and brown colors, while others are snow-white enlivened with delicate touches of blue. The largest rooms can accommodate up to 6 guests (4 adults and 2 children).
Porto Galini is also suitable for solo travelers because it is one of the few resorts that offers single rooms (and not double single use, as is often the case).
Parking
Restaurant
Bar
Reception 24 hours a day
Gym
Laundry service
SPA and wellness center
Luggage storage
WiFi
Air conditioning
Pool
Extra sanitary measures
6
Romanós -

Navarino Dunes
For those who love refined design, with attention to detail, we recommend The Romanos – Costa Navarino, A Luxury Collection Resort, a 5-star resort in Messinia, the region southwest of the Peloponnese.
Overlooking a long private sandy beach, this property is characterized by an elegant fusion of Greek architecture, contemporary design and elements that recall distant and exotic countries. Furnishings are upscale, both in the common areas and in the spacious guest rooms. Large windows, terraces and arches ensure that the sea is almost always within sight.
You can enjoy enchanting moments in the resort's glamorous swimming pools or in the refined spa, do many outdoor activities, regenerate with meditation sessions or try your hand at olive oil and wine production. From Romanos resort you can comfortably depart for exciting day trips to discover the beauty of the Peloponnese including the city of Olympia and the Temple of Apollo Epicurus.
The resort's exclusive rooms and suites can accommodate 2 to 5 adults; some overlook the garden, others enjoy sea views. Accommodations with balconies, accommodations with private pools, and accommodations with direct pool access are also available.
The three restaurants offer a variety of cuisines to suit every need.
Parking
Restaurant
Bar
Reception 24 hours a day
Gym
Airport shuttle
Laundry service
Rooms for disabled
SPA and wellness center
Luggage storage
WiFi
Air conditioning
Pool
Extra sanitary measures
7
Dassia -

Dassia - Main Street
Class and comfort are also guaranteed at the 5-star village Ikos Dassia in Corfu a top choice for those who want a vacation of perfection. The impeccable staff will do everything to satisfy your every desire; to contact them you can use a convenient Whatsapp concierge service.
Located just 12 km from the airport, the resort is suitable for families with young children as well as for couples or people seeking relaxation: the separation between children's and adults-only areas means that everyone can enjoy their favorite vacation undisturbed.
The structure develops parallel to a sandy beach bathed by crystal clear waters 400 meters long. If you don't want to go down to the beach, you can sunbathe or swim in one of the resort's 7 pools: one of these is equipped with a whirlpool and another with water games for children, but the most beautiful is undoubtedly the elegant infinity pool overlooking the Aegean Sea.
There's also plenty of choice in dining: there are 6 restaurants offering high quality cuisine, many of them run by international Michelin-starred chefs. And if the food is great, the same can be said of the cocktails, prepared by expert mixologists. You won't be able to resist the temptation to enjoy one by the pool or in the lush garden, so better to book the all-inclusive rate and indulge yourself!
The rooms and junior suites of the Ikos Dassia village can accommodate 2 or 3 people; the view is of the garden or the sea.
Parking
Restaurant
Bar
Reception 24 hours a day
Gym
Airport shuttle
Laundry service
SPA and wellness center
Luggage storage
WiFi
Air conditioning
Pool
Extra sanitary measures
8
Elia Beach -

Main Street
If you want the ultimate in luxury and glamor, treat yourself to a stay at the Royal Myconian of Mykonos, a 5-star resort that is part of the Leading Hotels of the World chain. Overlooking a private area of the famous Elia Beach, is an exclusive resort, with attention to detail, recommended for those who want to combine dream location and accommodation with high quality standards.
Design rooms have white walls enlivened by natural wood furniture, black accessories and a few touches of blue. They can accommodate 2 or 3 guests; the most luxurious suites have whirlpools or private pools.
The beach is easily reached on foot or by free shuttle; free shuttles to Mykonos Town and the airport are also available. But why go out when you can stay in the resort and laze by the elegant pool overlooking the Aegean Sea? There are no less than three poolside bars, which are complemented by the hotel's restaurants.
In addition to the resort's facilities, guests of the Royal Myconian can enjoy the pools and restaurants of the hotels of the same chain located in the immediate vicinity and in the center of Mykonos.
Parking
Restaurant
Bar
Reception 24 hours a day
Gym
Airport shuttle
Laundry service
Rooms for disabled
SPA and wellness center
Luggage storage
WiFi
Air conditioning
Pool
Extra sanitary measures