Best beaches in Lefkada
Among Lefkada's most beautiful beaches that of Porto Katsiki represents the island's iconic image, along with those of Nydri, Kalamitsi and many others.
The island of Lefkada is the richest in wonderful beaches among its seven Ionian sisters, the only one rich in such beauty that it has been nicknamed "the Caribbean of Europe."
The most famous beach that represents the island as if in a postcard is Porto Katsiki, at the southern tip of the island, 45 kilometers from Lefkada town. Here it is easy to find sun loungers and umbrellas, but the scenery remains breathtaking and unspoiled, with bars and small cool hangouts. A good 100 steps must be climbed to reach the beach, but the effort is worth it for the spectacular scenery before your eyes. Fine white sand and turquoise sea make Porto Katsiki the iconic beach of Lefkada.
Equally wild and marvelous is the beach of Kalamitsi, in the village of the same name, which enchants with the different shades of blue of the sea that becomes clearer and clearer as you approach the coast. On the west coast is Egremni beach, at the foot of a mountainous area, reached by several steps between rocky areas or by the various boat excursions. From here you can enjoy one of the most beautiful sunsets on the island, in the tranquility of a generally uncrowded beach.
Ideal for water sports is Mylos beach, reached by cab boat, with fine white sand and winds suitable for windsurfing.
Along the road to Lefkada town are Kathisma beach, frequented by the number of tourists staying in the apartments and studios on its coast, one of the most beautiful beaches and also best served by facilities and comforts, and Aghios Ioannis beach, among the most famous for windsurfing and entertainment until beyond sunset.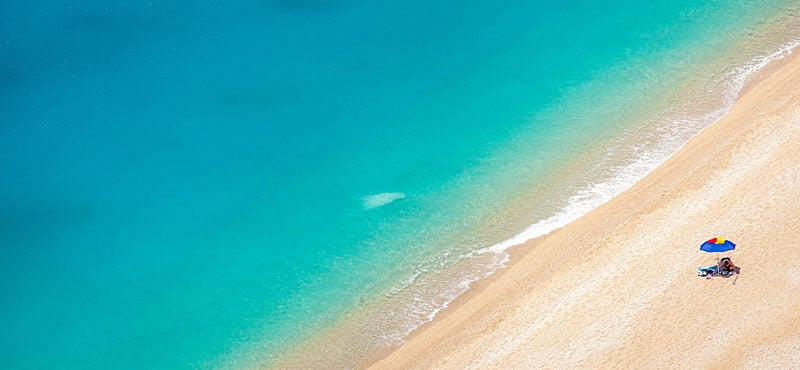 Not far from Lefkada town are Gira beach, wild and without bathing facilities; Aghios Nikitas beach, ideal for children because of its gradually sloping seabed; Nikiana beach; and Mikros Gialos beach, quiet, natural coves protected by gentle headlands. Less well-known and a destination for fishermen is Lakka beach, located at the end of a dirt road, ideal for snorkelers.
From Mikros Gialos beach, one can drive along the east coast to admire the beauty of the small inlet of Sivota and the large beach in the center of Nydri, a long tongue of white pebbles overlooking the islands of Onassis.